Four months ago, we previewed Major improvements to plausible deniability in Espionage 3.6. Today we're delivering those improvements, and many more!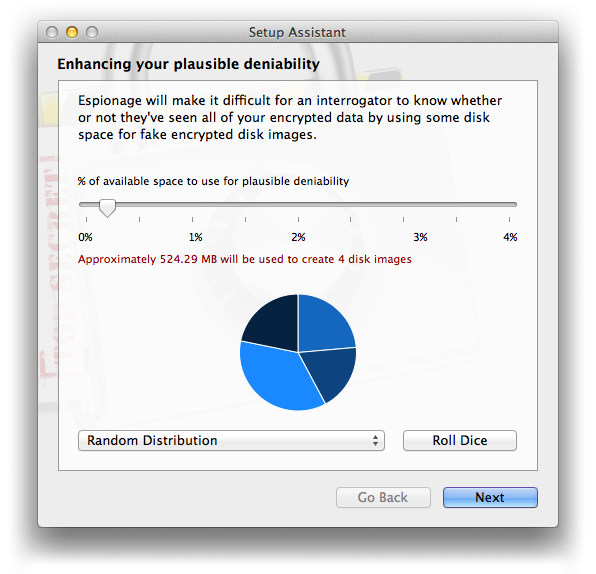 Overview of Significant Features
1. Plausible Deniability
Espionage 3.6 enhances the deniable encryption of previous versions by creating a random number of convincing fake encrypted disk images and a random number of fake Folder Sets (a Folder Set is a group of encrypted folders protected by a master password. You can have as many of these as you want, each having a unique password).
Fake disk images and fake Folder Sets have the potential to make it virtually impossible to tell whether a user has shown you all of their encrypted data. The fake data looks just like the real data, and we've even taken pains to ensure that all of the files inside of the fake disk images have random (and convincing) timestamps on them.
Update October 7, 2014: However, as of this release, the timestamps on the fake disk images are not sufficient to fool all infosec professionals. We are researching methods that will fool infosec researchers while still being respectful of our user's backup systems (like Apple's Time Machine, SpiderOak, etc.). Users might end up having to choose between super-convincing deniability and having to backup fake data periodically. We thank Steve Weis, Collin Anderson, and the [LiberationTech] community for pointing out that we should have made this clear here, and apologize for not having done so originally.

After updating to 3.6, existing users are encouraged to verify that all their folders unlock without problems, and then delete the old database backups in this folder:
~/Library/Application Support/com.taoeffect.Espionage3/Backups/
Copy and paste that path into the dialog that appears when you choose Go to Folder… from the Finder's Go menu:


We recommend deleting these old database backups because they can give away which copies of your database are filled with fake folder sets and which aren't (because of the file size difference). The super-paranoid might also want to clear out their system's log files after the update.
Why do we care about such features? Because encrypting data isn't enough to protect you from all threats, as this XKCD so elegantly illustrates:
2. Partial support for
TEN

new languages (to-be-finished soon!)

Remember our Pootle blog post and call for translators? Well, their hard work is being previewed in this release with the addition of ten new languages (in addition to English, Spanish, and Brazilian Portuguese):
Arabic
Chinese (Simplified)
Czech
French
German
Italian
Japanese
Korean
Russian
Tagalog
We expect to release another update with completed translations for the languages above in the next update (or soon after it).
And much much more!
This release involved almost the same the level of effort as a major release, but we're releasing it as a free update for all Espionage 3 users.
Explore the complete list of changes:
New Features!

Fake folder sets and fake disk images to mask how many you really have.
Holding Shift when unlocking folder opens it (plus preference to make default behavior)
Set the default image disk location via Preferences.
Double-click license to register Espionage (although we don't want to encourage double-clicking email attachments, too many weren't reading the instructions).

Security Enhancements!
Updated Localizations!

Updated:

Spanish, Brazillian Portuguese

Partial

(to-be-finished) support for:

Arabic, Chinese (Simplified), Czech, French, German, Italian, Japanese, Korean, Russian, Tagalog

Want your language here? Get in touch!

Improvements!

Multiple monitor support.
No longer brings up the scary OS X prompt for Contacts access during install (users must now manually type email to subscribe to newsletter).
Updated Sparkle to 1.7.1.
Close Espionage window when Escape key is pressed.
Quit if database newer than what Espionage expects.
Encrypted folders on Desktop stay visible when unlocked.
Better architecture for handling of disk images on external drives.
All XIBs upgraded to Xcode 5.
Sparkle updates from updates.taoeffect.com to avoid scaring Little Snitch users.

Bug fixes!

Crash in OS X 10.7 resizing the disk image.
Fixed potential crashes in certain error-handling situations.
Multiple Screen in OS X 10.9
Autounlock now properly updated for folders that were forcibly removed from the database (via the contextual menu).
Disk image's password is now saved in the same folder as the disk image when restoration fails (instead of always on the Desktop).
When using Window mode, open Espionage window when Dock icon is clicked
In folder list, filter by folder name instead of folder path
Removed misplaced warning when sparsebundle is imported from Desktop
Fixed email validator in newsletter setup assistant.
Better error handling and error messages during encryption and decryption.
Autounlock dialog staying open too long.
Removed deprecated API use (and therefore the Console messages).
Misceallaneous fixes and improvements. Over 100 tickets closed in this release!
And as promised, we'll be signing all our releases. The signature for Espionage.dmg is here and also here. Also,  starting in 3.6, Sparkle will verify updates using a pinned 4096-bit DSA key. The SHA256 of the main binary is also noted below.
Enjoy! 😀

% openssl dgst -sha256 Espionage.app/Contents/MacOS/Espionage
SHA256(Espionage.app/Contents/MacOS/Espionage)= 2d1c3ffdf129060f00729893b20db26b34bcc56d8197889720cbe191b4d38081