One of our goals for version 3, was to address a user-request to get Espionage into the Mac App Store (MAS). We thought we succeeded in this, but it looks like this was only a momentary success. Apple's June 1st sandboxing deadline hit, and we thought we were safe because we were already in the store, but this turns out to be not true. Apple didn't make this very clear, but they're preventing non-sandboxed applications from receiving feature updates in the MAS. So all non-sandboxed apps in the MAS are essentially "dead in the store".
We're unable to sandbox Espionage because of a bug in Apple's operating system (rdar://10419391), and we have a feeling they won't fix this bug anytime soon. Since we're not able to update Espionage in the MAS anymore, we're going to have it removed from the store.
We're asking users who purchased Espionage in the store to switch to the non-MAS version of Espionage, and to contact us using the following instructions so that we can send you a license to it. If you purchased Espionage in the MAS, please read these instructions before switching to the non-MAS version of Espionage.
How To: Switch to non-App Store version of Espionage 3
Step 1: Locate your copy of Espionage in the Applications folder and then right-click (control-click) on it, and choose Show Package Contents: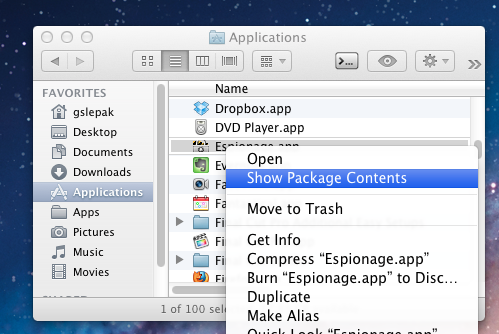 Step 2: Locate the receipt file in Contents > _MASReceipt > receipt. Copy this file to your Desktop (drag it while holding the Option key):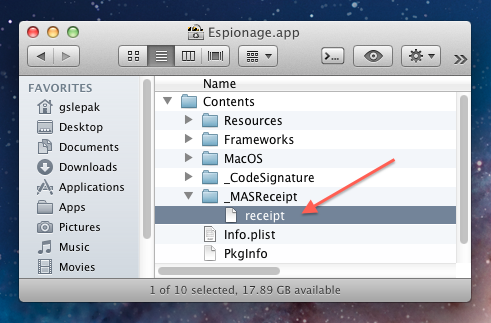 Step 3: Visit this link and enter your information. Click 'Choose File' (Safari) or 'Browse' (Firefox) and select the receipt file on your Desktop. Then click Submit. Your Espionage 3 license will be emailed to the address you provided, so make sure there are no typos.
Step 4: After you receive an email with your license, download Espionage 3 from its website, and replace your copy of Espionage with it. Then register it with the license you received. Don't replace your copy of Espionage until you receive your license.
That's it!
We apologize for the inconvenience that has been caused by this situation. On the bright side, we no longer have to wait for Apple's approval to release updates to Espionage, and 3.0.1 will be released shortly.