Update: DelayedLauncher 2.0 has been released.
Yesterday we received the following support email from Brian Kane:
When I put Mail (which is "espionaged") in the login items, the folder doesn't get unlocked in time and Mail acts like it is starting up for the first time. If I cancel the start up dialog and then wait a second or two and restart Mail, it starts up properly. Is there anyway to get the "espionaged" program to delay or something. I've had this happen with other "espionaged" programs in login items too. As it stands right now, I can't put any "espionaged" programs in Login Items.
Brian brings up a very valid point, so I spent part of the day whipping out a temporary solution to this problem, a program called DelayedLauncher: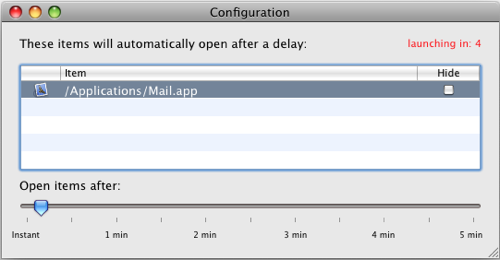 Instead of adding your "espionaged" programs to the login items, you add them to DelayedLauncher, and add DelayedLauncher to the login items. It will launch them after a delay you specify, and then automatically quit after 5 seconds. To stop either the auto-quit or auto-launch, just move the slider, or launch the program while holding down the command key.
A future version of Espionage will make DelayedLauncher unnecessary, but hey, for now it works and it's a free program that you might find useful for something else! 🙂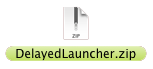 Requirements: Mac OS X 10.4+