The changes below include the changes for 2.7.1 and are marked as such.
We're pleased to announce the release of Espionage 2.7, as usual, here's the complete list of changes, followed by some of the key improvements:
NEW: Espionage can now import sparseimages and sparsebundles, converting them to folders.
NEW: Espionage now prevents the symlink from being moved, deleted or renamed when a folder is unlocked.
NEW: You can now send a folder to Espionage by using the Lock Folder contextual menu item (10.6 only)
IMPROVED: Espionage will try to unlock a folder a second time upon failing the first time to compensate for a bug in OS X.
IMPROVED: Added helpful troubleshooting tips to some dialogs.
IMPROVED: Now you can have apps within autounlocked folders be delayed-launched
IMPROVED: Check to make sure there's enough space on the drive before encrypting a folder.
FIXED: Issue on 10.6 where you couldn't re-lock a non-encrypted folder using the contextual menu
FIXED: Registration issue with licenses having '+' in their email.
FIXED: In some situations a folder could be added to Espionage skipping the folder's integrity check
FIXED: LCC installer didn't remove old files, so updated check to take this into account
NEW (2.7.1): Application template for Google Chrome
IMPROVED (2.7.1): Ensures Espionage is forground app when adding a folder to it
CHANGED (2.7.1): Changed default filesystem to HFS+J
FIXED (2.7.1): Size check issue that could report a folder as being too large to encrypt
FIXED (2.7.1): Rare situation where the license type could be missing in the registration window
FIXED (2.7.1): Registration issue with licenses having '+' in their email. (this time for good)
FIXED (2.7.1): Issue that could occur when renaming encrypted folder to a name that has forward-slashes
FIXED (2.7.1): Check for folder-in-folder encryption conflicted in rare situation with folder rename
Overview of Significant Changes
Sparseimage and Sparsebundle Import
If you have a sparsebundle or sparseimage with existing data encrypted in it, you can now turn it into an encrypted folder in a snap.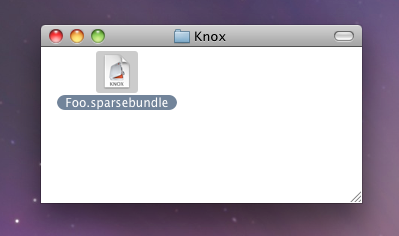 Just move the disk image to wherever you want the folder to be (for example here we've moved the sparsebundle onto the Desktop), and then drag it onto Espionage: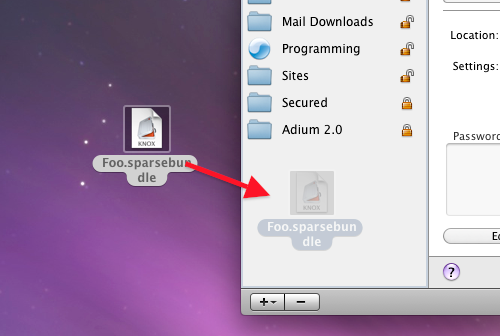 You'll get this new prompt asking whether you'd like to turn it into an encrypted folder:

Click "Yes" and then simply enter the disk image's password and you're done! 🙂
By the way, if you're a Knox user considering making the switch, you can now get a large discount on Espionage! Just see its homepage for details.
"Lock Folder" Contextual Menu improved for 10.6
Previously the "Lock Folder" contextual menu did not lock non-encrypted password-protected folders on Snow Leopard. Now, not only does it do that, but you can use it to send folders that aren't already under Espionage's protection to Espionage.
Enjoy! 😀