Problem Restoring A Folder
If for any reason Espionage is unable to restore an encrypted folder, it will try to recover by giving you the disk image that contains the contents of your folder. It will place this disk image into the folder that contained the encrypted folder.
So long as the disk image is not corrupted, your files should be safe inside of it.
Restoring from recovered Espionage'd Disk Images
Normally, when you double-click on an encrypted disk image, you will be asked for its password and after entering it you will then see a mounted volume on the Desktop: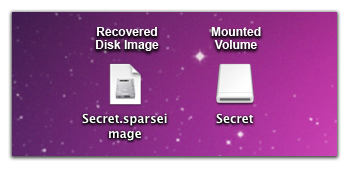 Espionage'd disk images behave differently in two ways:
When mounted, their volume is invisible.
When mounted, they will have a folder icon instead of the white volume icon shown above.
Therefore the steps for restoring these disk images are as follows:
Restoration Steps
Download iVisible by Mikes-Software (Alternative link)
Double-click on the downloaded archive file to extract the application
Run iVisible and click on the "Make Visible" button (this will relaunch the Finder)
Double-click on the disk image and at the prompt enter the password for the folder that it represents
You should now see on your Desktop the invisible volume, on 10.5 it will look like a regular folder, but on 10.6 it will appear grayed out: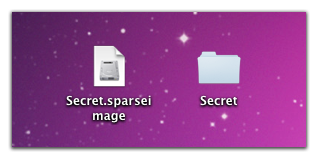 After copying your files out of the volume you can eject it by dragging it (the grayed out "folder") to the Trash. Finally, make sure to run iVisible one more time, but this time click the "Make Invisible" button.
If that didn't help
Try restarting your computer and repeating the steps again. If that still doesn't help, please contact us via email and include in your message any errors that you encountered. Screenshots of error messages help a lot!